RKW Hyplast NV is a Belgian company that is a pioneer on the market of silo bag manufacturers that became a brand leader as a result of its consistent technological development works. Currently its plant is the most modern silo bag factory in the world. Hyplast has its own research laboratory where the manufactured products are tested, as well as the product of its competitors. Next to silo bags the company manufactures also a number of polyethylene products for gardening, farming and industry.
The silo bags manufactured by Hyplast are the highest quality products made of elastic polyethylene that enable storage of feeds, roughages, cereal grain and maize, as well as brewery stillage, sugar beet stillage, various type of waste, road salt and other materials in hermetic conditions.
The silo bags are available in various dimensions (diameter, length and foil thickness). We also offer additional consumables, including venting valves and rails closing the silo bag.
Our silo bags stand out among competing products thanks to their many advantages, such as:
• larger silo bag diameter – it is possible to store in our silo bags up to 10% more raw material than in competing products. Thanks to that the use of silo bags is more efficient and the price is 10% lower, which provides thousands of saved Polish zlotys in case when a large number of silo bags is used.
• the price includes a maintenance set – each silo bag has a repair tape, clamping bands, knife, ruler and marker – and all of it is included in the silo bag price.
In case of orders for more than 100 silo bags it is possible to have your logo printed on them.
Pobierz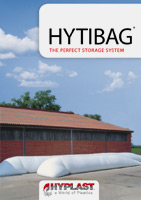 We would like to show you the recommendation written by our customers who decided to share their opinions on the advantages resulting from application of silo bags.
By means of this brochure we would like to introduce you to the world of silo bags, the application of which becomes more and more widespread. We hope you will enjoy reading it.