We would like to introduce to you a modern mobile Agripak dryer for cereal grain and maize. This machine has been specially prepared for us by the Italian Esma factory. The design of this machines takes into account the modern requirements of customers within the scope of functionality, endurance and economy of the drying process. In Agripak dryers there have been applied high quality materials and a modern Riello burner.

Standard equipment:
– sieves made of INOX stainless steel
– Riello burner
– thickened coils of the central screw
– silent axial fan
– power transmission shaft – 540 rpm
– electric generator powering the control cabinet
– gravitational system for cleaning the grain, with replaceable sieves
– robust transport undercarriage

– adjustment of the amount of grain released
– mixers preventing suspension of grain in the dryer
– quick and easy assembly and disassembly of the dryer for the purposes of work and transport
Additional equipment:
– electric drive unit
– gas burner
– light contamination separator with a cyclone
– roof
– central lubrication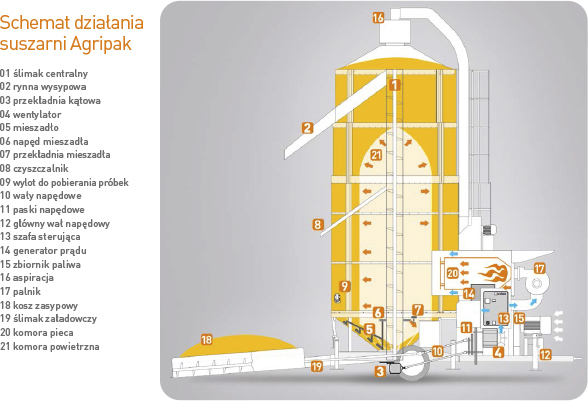 MODELS
Capacity m3/t
Efficiency t/24h
wheat maize
Power demand of tractor/electric motors
ES 90F
12,3 (9t)
50
36
45/22
ES 145T
20 (15t)
100
60
65/30
* the dryer efficiencies are average values depending on grain moisture content and ambient temperature
ADVANTAGES
Grain drying is a very important process enabling storage of cereal grain, maize and rapeseed. Mobile Agripak dryers are portion devices that will meet the expectations of even the most demanding customers. Their structure, operation principle and carefully chosen production materials ensure functionality and reliability.
Drying with the use of an Agripak dryer is a quick, simple and safe process resulting in high quality final product that is ready for storage.
The machine is filled by means of charging hopper and then thanks to the central screw feeder the grain is constantly moving. The mixer located in the lower part of the drying chamber prevents suspension of grain and enables equally distributed heating and drying of grain.
In the dryers there have been installed two-stage Riello burners. They are characterized by great power that enables quick achievement of work temperature, complete control and stabilization of temperature of air used for drying grain. The stable burner operation means not only large savings on fuel but also ensures the highest product quality after drying.
The range of temperatures applied for drying grain is 40-140°C. After heating the grain properly the dryer automatically enters the cooling mode.
The mobile Agripak dryers are adjusted for drying all kinds of cereals and seed material.