The machines for unloading grain from silo bags, manufactured by the Canadian Renn Mill Center company are used for unpacking dry cereal grain and maize from silo bags. These machines are intended for large farms employing the technology for storing dry grain in silo bags, as well as for service companies. The Renn Mill Center machines used for unloading grain from silo bags are intended for industrial use, characterized by robust structure, low power consumption, resistance to wear and easy handling.
There are available three types of these machines, differing in size and efficiency. The smallest model is intended for unloading of grain from silo bags having the diameters of 2.7 m and 3 m, while the two larger models are intended for silo bags having the diameters of 2.7 m, 3 m and 3.6 m. Depending on the model, the efficiency of machines amount to 4-6 tons per minute. All the models are fitted with cylinders winding up the silo bag during unloading. The machines are adjusted for unloading the grain from silo bags onto a truck. The loading of a 30-ton truck takes several minutes.
The grain is collected from the silo bag by means of transverse screw sweeping the grain from the bottom of the silo bag. Afterwards, it is fed onto the screw loading the grain onto the truck. During the grain unloading the machines cuts the silo bag in half in its upper part. The cut silo bag is wound up onto the cylinders, which, driven by the hydraulic motors, move the machine into the silo bag. After unloading the silo bag is wound up on the cylinders and it is ready for recycling in the form of a reel after removal.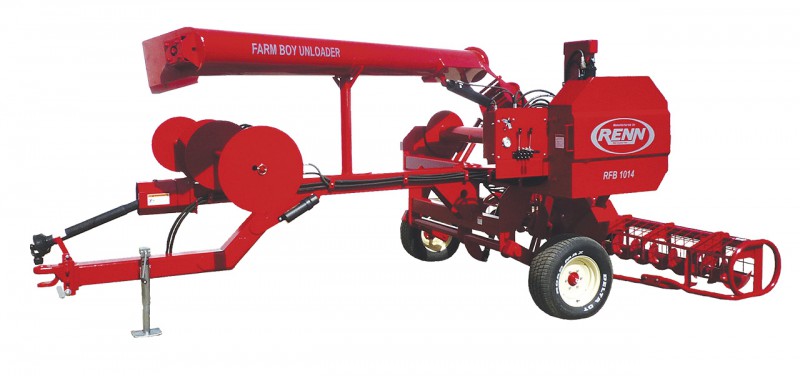 | | | | |
| --- | --- | --- | --- |
| RRENN MILL UNPACKERS | 1218 CD | 1214 CD | FBU 1014 |
| Unloading screw diameter | 460 mm | 355 mm | 355 mm |
| Sweeping screw diameter | 280 mm | 229 mm | 229 mm |
| Unloading screw height | 426 cm | 426 cm | 444 cm |
| Transport height | 365 cm | 365 cm | 244 cm |
| Transport width | 267 cm | 267 cm | 292 cm |
| Weight | 3084 kg | 2676 kg | 2114 kg |
| Maximum efficiency | 360 tons/h | 228 tons/h | 240 tons/h |
| Minimum power demand | 100 KM | 60 KM | 60 KM |