We are introducing two modern machines of the Agripak company:
– The Agripak R9 packer enables quick storage of moist and dry cereal grain, maize, sugar beet stillage, brewery stillage, fruit pomace, salt, post-fermentation sediments and mineral fertilizers in silo bags.
– The Agripak RZ9 packer enables quick storage of only moist and dry cereal grain and maize in silo bags.

Standard equipment:
– 3 x 1.5 m charging hopper
– transport undercarriage for movement along public roads
– location for preservative dosing
– tunnel having the diameter of 9 feet (2.7 m)
– brakes for setting the pressing force
– indicator of pressure in the braking system
– lift for installation of silo bags

– adjusted roof over the loading screw
– shelf supporting a silo bag
– power transmission shaft
– inspection openings in the charging hopper
Additional equipment:
– silage applicator
– possibility of ordering a packer with a different tunnel (1.95 m, 2.40 m)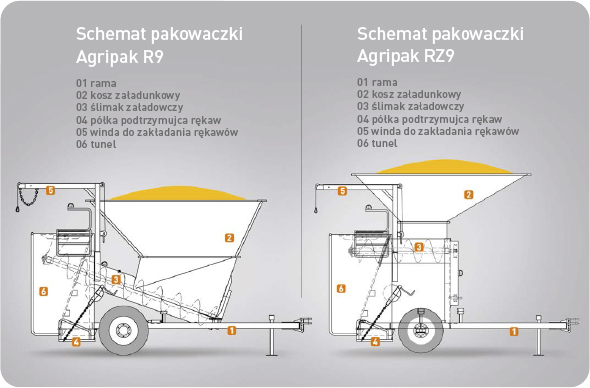 Agripak Packer
RZ9
R9
efficiency
t/h
200-300
200-300
power demand
KM
od 60-80
od 60-80
Grain packing
The method of packing cereal grain into silo bags is applied in many countries all over the world. Storing grain in silo bags is much cheaper than traditional methods. The total cost of storing one ton of grain in a silo bag amounts to 10-15 Polish zlotys depending on the amount of grain packed.
The amount indicated includes the cost of silo bag, depreciation of the machine purchased, tractor and human labour.
The main elements of Agripak Packers are the charging hopper, transport undercarriage, loading screw for loading into the silo bag, tunnel for the silo bag and lift for installing the silo bags. The machine is fitted with brakes for setting the silo bag loading force.
The packer may be optionally fitted with applicator of preservatives.